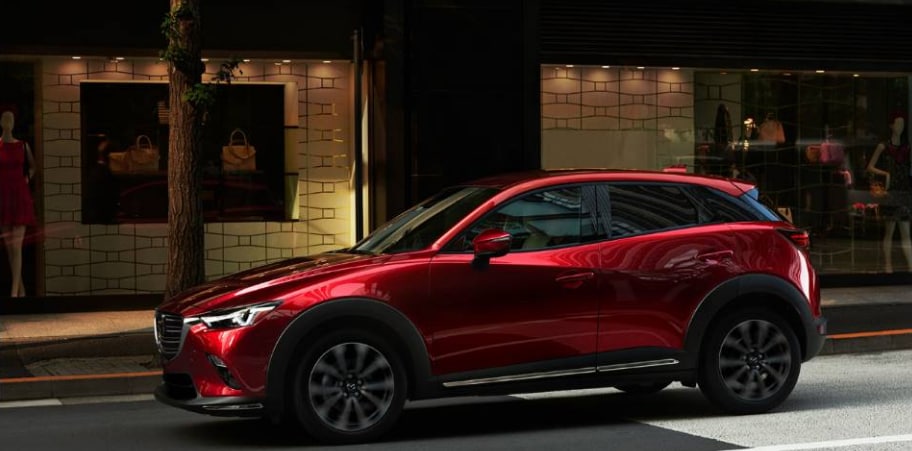 THE NEW 2019 MAZDA CX-3:
Beautiful design and thoughtful engineering heighten your senses through a unique connection between driver and machine. Everything must work seamlessly to create  balance and precision. The 2019 Mazda CX-3 embodies this approach-with stunning lines and a bold stance, making it look just as good standing still as it does in motion. Throughout the cabin, clean insightful design helps eliminate distraction. On the road, the intuitive handling of the CX-3 leaves you feeling invigorated and ready to engage with the world around you.
EMBRACING WHAT IS MOST ESSENTIAL.
As you enter the Mazda CX-3, you'll appreciate Japanese essentialism firsthand. All extraneous details have been stripped away to accentuate motion, space and clarity. Colors work in harmony. Available materials like the Lux Suede® trim and leather upholstery are pleasing to the touch and the eye. Natural light emphasizes a continuous clean line that wraps around the entire cabin, creating a more open and calming space for you and your passengers.
A NATURAL EXTENSION OF THE DRIVER. 
Keeping you connected to your music, entertainment, friends or colleagues, all while keeping your eyes focused on the road, MAZDA CONNECT™ is as intuitive as it is interactive. Optimally positioned just beyond the center console armrest, the multifunction Commander control lets you navigate the system's features without distraction. All information is shown on the 7-inch full-color center display. It's technology designed to minimize mental and physical dissonance, keeping you in close touch no matter how far you travel.
BALANCING SILENCE AND SOUND.    
Too much road noise can be distracting and tiresome. Not enough can be disorienting. Through an overall improvement in noise-damping and insulation, our engineers were able to reduce the overall amount of exterior noise that penetrates the cabin, while still allowing for the optimal amount of sound from the road and engine. Your connection to the road is heightened. Your levels of stress and fatigue are lowered. It's all about shielding you from all that is unnecessary, so you can focus on what will bring you.
RESPONSIVE. AND RESPONSIBLE.
SKYACTIV® TECHNOLOGY enables us to orchestrate what we believe to be the ideal driving experience. From the chassis, to the transmission, to the engine and beyond, we've designed every single aspect of our cars to be powerful, yet efficient. SKYACTIV® TECHNOLOGY also combines the joy of driving with outstanding environmental and safety performance.
IDEAL DRIVING IN EVERY CONDITION.
Control. That's the crux of everything that goes into engineering our available all-wheel drive system. When weather or road conditions change, i-ACTIV AWD® helps predict the possible loss of traction by actively monitoring everything from outside temperature and windshield wiper usage to the driver's steering and braking patterns. If, for example, the outside temperature is cold enough for snow and your windshield wipers are on, the AWD system recognizes that the roads might be slippery, and prepares for possible front-wheel slip. If the wheels do in fact slip, the system can quickly transfer engine power to the rear axle. It's a simple yet advanced way to help deliver ideal traction in a variety of road conditions.
TO HEIGHTEN YOUR SENSES, WE CREATED A FEW OF OUR OWN.

Avoiding an accident in the first place is always the safest route. With the available i-ACTIVSENSE® suite of safety features, sophisticated safety innovations alert you to hazards to help you avoid collisions-or lessen their impact. These features help improve your visibility and awareness of the road and monitor the traffic conditions around you. When needed, these innovations will even perform automatic braking1.i-ACTIVSENSE creates a more confident driving experience so you can feel focused  and engaged with every drive you take.
BLIND SPOT MONITORING
REAR CROSS TR AFFIC ALERT
LANE DEPARTURE WARNING SYSTEM
ADAPTIVE FRONT-LIGHTING SYSTEM
HIGH BEAM CONTROL
SMART CITY BRAKE SUPPORT
ADVANCED SMART CITY BRAKE SUPPORT WITH PEDESTRIAN DETECTION

SMART BRAKE SUPPORT WITH COLLISION WARNING

MAZDA RADAR CRUISE CONTROL WITH STOP & GOTRAFFIC SIGN RECOGNITION SYSTEM
SPECIFICATIONS
 ENGINES
SKYACTIV®-G 2.0L DOHC
16-valve 4-cylinder engine with VVT
148 horsepower @ 6,000 rpm
146 lb-ft of torque @ 2,800 rpm
 TRANSMISSION & DRIVETRAIN
SKYACTIV-Drive 6-speed automatic transmission with manual shift & Sport modes
SKYACTIV-VEHICLE DYNAMICS with G-Vectoring Control
Front-wheel drive (standard)
Available i-ACTIV AWD® all-wheel drive
Hill Launch Assist
 FUEL ECONOMY
EPA-estimated MPG (city/highway)
229/34 (FWD)
27/32 (AWD)

 FUEL CAPACITY (U.S. gallons)
12.7 (FWD)
11.9 (AWD)
 DIMENSIONS (inches)

Overall length 168.3
Wheelbase 101.2
Width 69.6
Height 60.7 (Sport) / 60.9 (Touring and Grand Touring)
 CARGO CAPACITY (cubic feet)

Without Bose® audio:
12.4 (rear seatbacks up) / 44.5 (rear seatbacks down)
With Bose® audio:
9.6 (rear seatbacks up) / 41.7 (rear seatbacks down)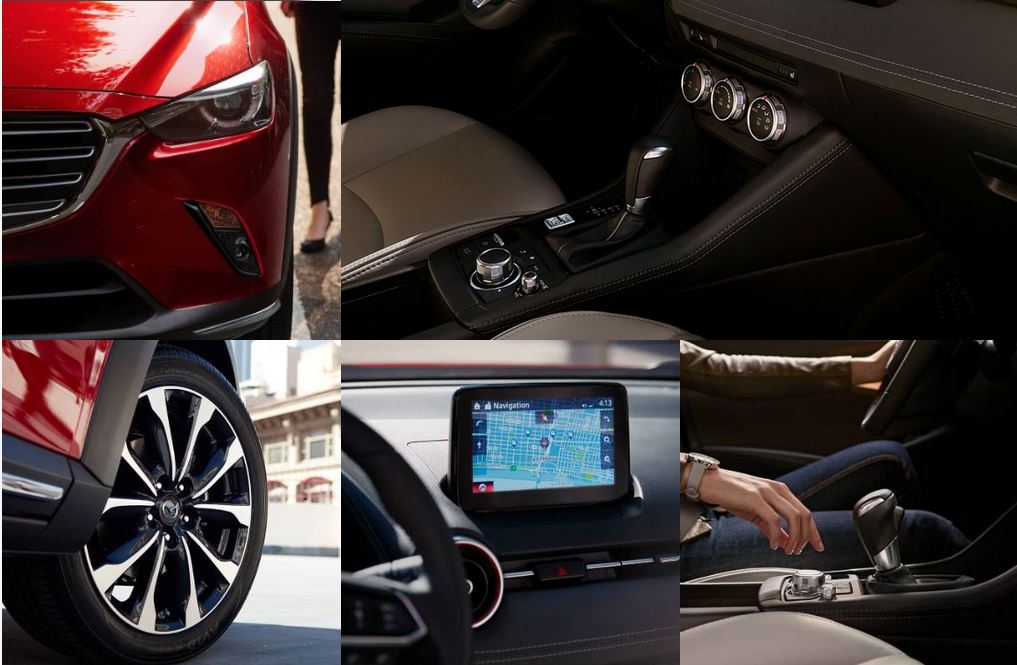 See brochure for complete details on all trim levels, options and specifications.